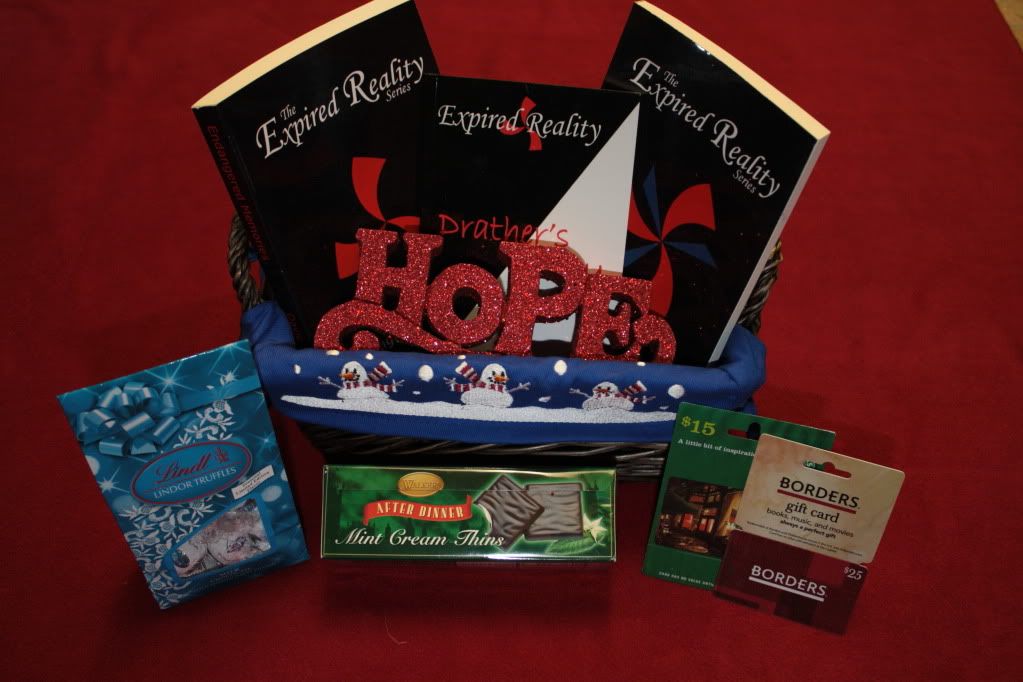 Looking for the perfect gift for the book lover in your life or want a novel idea for treating yourself? The Expired Reality Holiday Gift Basket is being auctioned off just in time for the holidays! Inside this amazing basket of goodies is:
1 Signed copy of
Expired Reality: Endangered Memories
1 Signed copy of
Expired Reality: Lost Birth
1 Signed copy of
Expired Reality: Drather's Story
$25 Borders gift card
$15 Starbucks gift card
5.1 oz package of Lindt milk chocolate truffles
7 oz package of Walkers mint cream thins
"Hope" centerpiece
The basket is valued at $100 and will be auctioned off through bidding, the base bid starting at $75. Half of the proceeds of this gift basket will go to the Ignite Youth Group at
Crosspointe Church
. The bidding will begin on Friday morning, December 18th at 8am (Arizona time) and will end on Tuesday, December 22nd at 11:59pm (Arizona time). The highest bid that is cast for the basket at the end of the bidding time frame will be awarded the gift set for that bid price. Funds can be paid via cash, check or PayPal. If you live outside of the valley, you will need to cover shipping on top of the bid amount. If this is the case, the basket will be shipped as soon as funds are received via Paypal or check. At that time, a mailing address for the funds will be given.
In order to participate in the bidding, send your bid via email to my
Facebook account
or via email to dna@davidnalderman.com. Current bids will be posted via Facebook during the day every couple of hours and updated on the official website every evening.
Any questions? Just contact me via Facebook or email. :) For more information on the books themselves, visit davidnalderman.com.