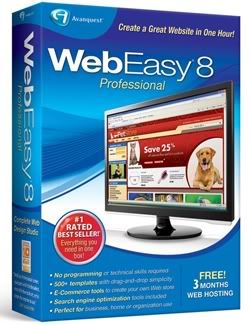 Being a self-published author, I know that the Web is one large arena that can be used to my advantage...if used right. A website is one of many important tools in a self-published author's marketing bag and can also be one of the most daunting if trying to do it yourself.
With books to write and people to network with, I don't have time to learn HTML to build my own site from scratch. So years ago I found a nifty little program called
WebEasy Professional
. Created by Avanquest Software, WebEasy is a drag and drop website builder that allows you to build a website from scratch without having to known HTML or any other type of coding.
WebEasy makes things fairly easy with a point and click, drag and drop interface. You can choose font colors and styles, add images and import sounds. The program even has a Custom Script Assistant that helps you include HTML properties into your project. Your page limit is pretty much unlimited. There are rulers and point grids to help you line things up correctly, and you can preview what the individual pages or the whole site looks like before you publish it. There is a fairly easy guide that helps you connect to your FTP server to upload the website to your domain.
WebEasy also comes with loads of clip art - 85,000 web-ready graphics to use in your website, all part of the program. This makes putting buttons and banners, borders and pictures a fairly simple task, assuming the program has the graphic you're looking for and that it fits the style of your website.
At an affordable price - $49.95 at the time of this posting - and with a convenient and easy-to-learn interface, WebEasy is a decent pick for those of us without the technical knowhow to build a website from code.
There are
some
drawbacks that I have noticed in the years working with WebEasy. One is the poor technical support. On many occasions I have written emails to their technical support teams and gotten responses back asking me what it is I am requesting, as if they don't understand basic lingo in regards to their own program.
Another minor drawback is that the program doesn't allow you to turn off link colors, meaning you have to have the links in your website set to show up as a certain color, whether that be black, white or one of the colors in between. This can be annoying and frustrating when you are trying to design a website that has a specific color scheme on a white background and you don't want your link to be a particular color different from the color of the website's text. I am sure there is a way to alter that in the HTML coding, but isn't there a reason I'm using a program to create my website?
Those things aside, WebEasy has helped me over the years to design and sustain a decent looking author website. I am constantly finding new caveats to the program that help me to make my site the best it can be.
Check out
my website
to see what I have done with WebEasy so far.