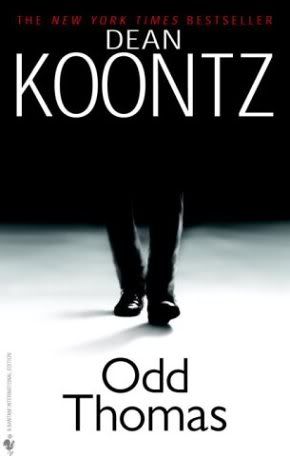 Lately I have been trying to read work from authors I have either not read from yet or haven't read from in a while.
Odd Thomas
is actually the first book I have read of Dean Koontz's and I'll admit, this book made me a fan of his practically overnight.
Odd Thomas
is the story of a young man, Odd Thomas, who can see dead people. Some come to him and request him to help them pass from this world to the next and some just can't let go, like Elvis who befriends Odd and rides with him around town. But there's more than just the dead walking around Pico Mundo, the California town where Odd resides and works as a short-order cook at the Pico Mundo Grille. There are creatures called bodachs (a name that Odd chooses to call them by) that resemble black mass silhouettes whose presence usually foretells of some impending chaos or disaster.
The book opens with Odd being called to bring to justice a man who raped and murdered a young girl. After that, Odd goes to his job at the Pico Mundo Grille and notices bodachs hanging around a man with a creepy smiling disorder. Following the man brings Odd into a tumultuous supernatural storm that forever changes his life and the lives of those close to him.
The book is written from Odd's point of view in first person narrative and is told as a memoir of sorts of Odd's adventures during a span of a couple of days. There is humor in the book and yet it has a dark, moody sort of feel to it that really lends itself to the atmosphere surrounding the dead and possibly dying that Odd encounters. I loved Odd's inner thoughts and his dialogue. Both were very well written and I found myself laughing out loud on more than one occasion.
Odd Thomas
is a rich story made richer with the character of Stormy Llewellyn, Odd's love interest. According to a fortune that was given to them both by a gypsy mummy at a carnival, they are destined to be together forever. She is the perfect counterbalance to Odd's unpredictable and somewhat questionable behavior and lends some sunshine to the bits of gloominess that surround Odd's destined career.
I think this book can act as a wonderful catalyst to stir up questions about religion and the afterlife. There is brief mention of reincarnation and the majority of the book hinges on the belief that the dead have the choice whether to move on from our life to the afterlife. The book doesn't shove any of these beliefs down your throat, simply presents them as character traits and leaves the subjects open for discussion or deeper thought.
After reading this book, which I did at the referral of my brother, I was pleasantly surprised to find that there are at least three others that were written with Odd Thomas:
Forever Odd, Brother Odd
and
Odd Hours
. These will indeed be read and reviewed as well.
Odd Thomas
was a pleasant surprise to read in the midst of the heavy Stephen King novels I am venturing through:
Wizard and Glass
and
The Stand
.