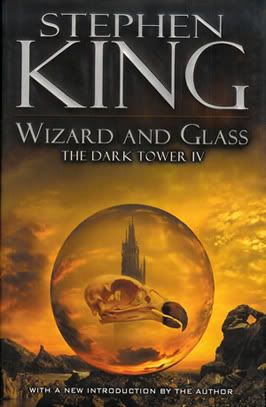 When I first picked up this installment in Stephen King's wildly popular Dark Tower series, I wasn't sure what to expect. I had read a few brief reviews on it and was dismayed to find that a decent number of people found this book completely pointless to the series as a whole. Some said the book could be skipped altogether if not for some key elements of plot that take place in the beginning and in the end of it. The main reason for this is because the book is essentially a giant flashback, a telling of Roland of Gilead's days of youth and how he came to his decision to pursue the Dark Tower.
As Roland and his current group of friends, or ka-tet, spend the night on an abandoned turnpike in Kansas, he tells them the story of his one and only love, Susan Delgado, of his old enemies, the Big Coffin Hunters, and his escapades in Mejis, the barony that he and his friends were sent away to in an attempt to keep them out of trouble after Roland witnessed his mother being seduced by Roland's arch nemesis, Marten the sorcerer. The tale fills in much of Roland's past from the time he is announced a true gunslinger to the point where he decides to pursue the Dark Tower over everything else.
This story is as much a romance as it is an adventure. As much a horror as it is a character driven masterpiece. I have never become so absorbed in a novel as I did when reading
Wizard and Glass
. In the three books leading up to
Wizard and Glass
, I got to know Roland of Gilead – a little – but I knew there was more to Roland's past than what was being revealed. His one true love, Susan Delgado, for example is mentioned in the tales leading up to
Wizard and Glass
, but nothing could have prepared me for the fate that actually encompassed her character.
And that is the strong point of King's masterpiece – character. Personally, I love character driven stories over plot driven stories. This is both. Roland's character comes off the page in vibrant colors. His bright blue bombardier eyes stare out at you in every page that is turned and you know that tragedy will befall him but you hold onto a strand of hope that perhaps things really will work out for him in some small way. I found myself skipping ahead to different chapters to catch of glimpse of what was going to happen because the book had me on pins and needles with the tension it delivered. I wanted to know if Roland would best the Big Coffin Hunters, if he would solve the mystery of the Drop and the Wizard's Glass, if he and his friends would manage to thwart The Good Man's sinister plans. Most importantly I wanted to know what was to happen to Susan Delgado. She was a character that I easily fell in love with and it was difficult to put the book down at times unless I knew she was in a safe spot out of harms way.
King is a master of his craft. There is no doubt about that. The only complaint I think I have of
Wizard and Glass
is that some of the earlier flashback scenes are a bit slow and I found I had to trudge through them to get to the meat and potatoes of the book. I felt the book could have been cut a little bit shorter than it was, but at the same time these scenes are few.
I highly recommend
Wizard and Glass
to anyone that has read the first three books of the Dark Tower series. As much as it is a flashback, I would suggest readers pick up the first three books to acquaint themselves with the main characters that are presented before and after the flashback, and so readers will understand why Roland and his group are riding a demonic train in the beginning of the novel, one they are struggling to tell riddles to in order to be let off the cursed thing.
The book in all its strangeness, in all its romance, in all its horror and science fiction/fantasy, is on my list of all time favorites, as is the Dark Tower series as a whole. After reading the first three books about a year ago, this one only renewed my desire to read the complete series and any of King's other works which tie into it, which are surprising and many.