Well, last weekend I did the last of four Bookmans book signings that took place across February. This one was in Phoenix and I ended up selling 5 books in the two hours I was there.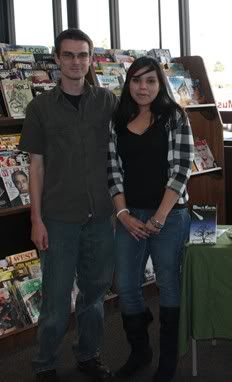 Yvette, the event coordinator, was more than helpful and even gave me, my brother and my wife all a $5 store credit for coming and doing the signing. She even asked to get a picture with me...
There wasn't anything too strange that occurred. I actually had a lot of positive responses from people when I described my book and handed them an excerpt. Whether or not those turn into future sales remains to be seen, but I was happy just to get my name and my story out there.
All in all, I ended up selling 24 books at the four signings. I don't think that's too shabby. It is awesome to think that all 24 of those books went to complete strangers new to my work. At each signing I made sure to leave a free copy with the event coordinator. This was to thank them for helping me set up the signing (because in all honesty, I really couldn't have done it without them) and also in hopes that they would possibly read the book and then maybe pass it along through the store for the other employees to read.